Restaurants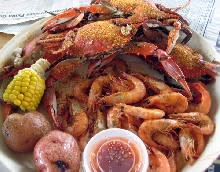 The dining scene in Charlotte Harbor & the Gulf Islands is an eclectic mix of seafood shacks, sidewalk cafes, waterfront eateries, fine dining and sweet spots. Primary dining districts include downtown Punta Gorda, Fishermen's Village and Englewood's Dearborn Street. Familiar chain restaurants are bountiful, too.
Notable culinary experiences include dinner at Golden Spoon recipient The Perfect Caper, headed by multi-time nominee for the James Beard Foundation Best Chef in the South, Jeanie Roland, and lunch at the table actor Denzel Washington sat at while filming "Out of Time" (2003) at The Fishery Restaurant in the fishing community of Placida.
Hop the pond without a passport to enjoy traditional fish and chips with mushy peas at the Ice House Pub which is housed in the former Punta Gorda Ice Plant. It was built in the 1890s and listed on the National Register of Historic Places. Authentic Irish fare is enjoyed at the Celtic Ray Public House, which is owned and managed by Dublin native Kevin Doyle. Enjoy Caribbean cuisine fused with traditional Southern flavor at Farlow's on the Water. Herbs used in menu items are grown on site, and guests are invited to tour the garden.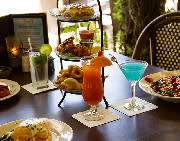 Anglers can enjoy their fresh catch and let someone else do the cooking. The Village Fish Market Restaurant & Lounge at Fishermen's Village will prepare a fishermen's cleaned fish any delicious way they'd like.
Late fall through mid-spring, see and taste what certified organic Worden Farm is growing. They offer culinary workshops and farm tours on select dates. Year-round farmers markets provide fresh veggies, meats and crafts throughout Charlotte County. 
Whatever the craving and occasion, there's a restaurant satisfying every tastebud. Following is a sampling of the area's tasty dining options.
---
About the Charlotte Harbor Gulf Island Coast
Florida's premier year-round eco-tourism destination, Punta Gorda/Englewood Beach, The Charlotte Harbor Gulf Island Coast, is known for its pristine, unspoiled beauty. The area has hosted seven major feature films, been featured on SAIL magazine's list of the "10 Greatest Places to Sail in the United States," ranked by Golf Digest as the "Third Best Place to Live and Play Golf in America," and rated by MONEY magazine as one of the "Best Places to Live in the South." For information about area events, activities and attractions, contact the Punta Gorda / Englewood Beach Visitor and Convention Bureau, 1700 Tamiami Trail #G-2, Port Charlotte, FL, 33948.  941-743-1900, or call toll free at 1-800-652-6090 for a free Visitor's Guide; or visit the Web site at CharlotteHarborTravel.com.